Dates: 15th to 17th April 2022

Participants: Anindita Banerjee (@anindita2) , Tanmoy Kundu Chowdhury & Debashis Chowdhury (@debashischowdhury)
 
Places covered: Latpanchar (15- 17 April morning) & Shivkhola Riverbed (for 2 hours on 17th April, 2022 between 12:30 & 14:30 Hrs)

Weather: Mainly cloudy with occasional spells of rain on 15th and 16th April. Got sunny weather in the last day of the trip although it was very humid in the lower altitude when we were in Shivkhola.

Highlights: (1) Total 38 species of birds were observed. The count of birds observed has been disappointing owing to bad weather and huge rush of tourists including photographers. All the local birding guides were resorting to unethical practices of playing bird calls on portable electronic devices and mimicking calls.
            Rufous-necked Hornbills (both male & female), Red-headed Trogon, Long-tailed Broadbill, Himalayan Griffon Vultures, Brown Hawk Owl and Asian Barred Owlet (pair) were among our notable sightings.

           
(2) We got some butterfly activities at Latpanchar in a forested patch close to our Homestay. But  on 16th April  we got to see good butterfly activities in Mahananda W.L.S. In the last day we got very good butterfly movements at Shivkhola riverbed.
            Among notable sightings were Red-base Jezebel (mating), Common Orange Awlet, Dark Clouded Yellow (at Mahal Diram Tea Garden), Palla's Sailer, Tawny Mime, Powdered Baron and Lilacine Bushbrown.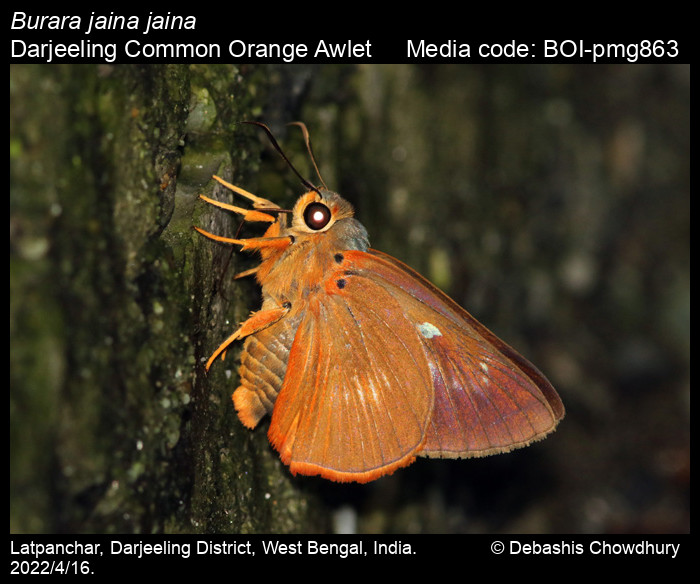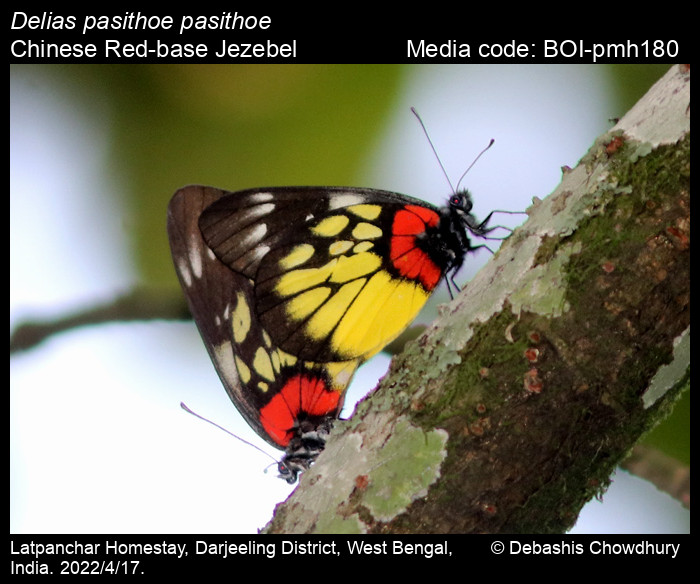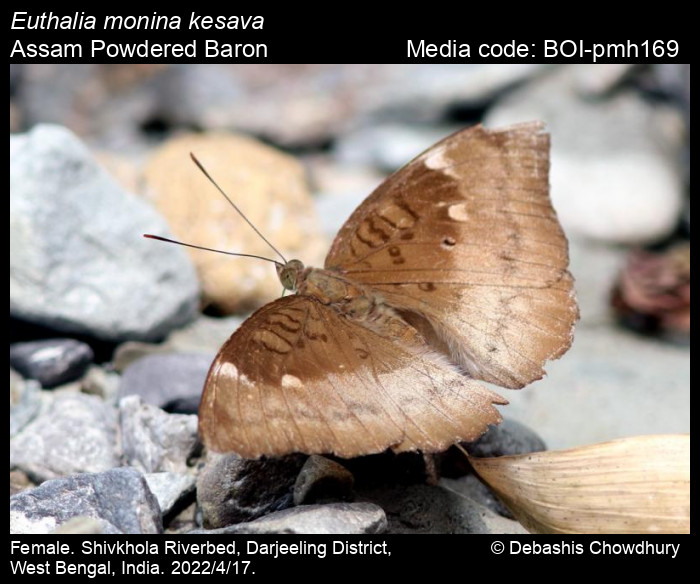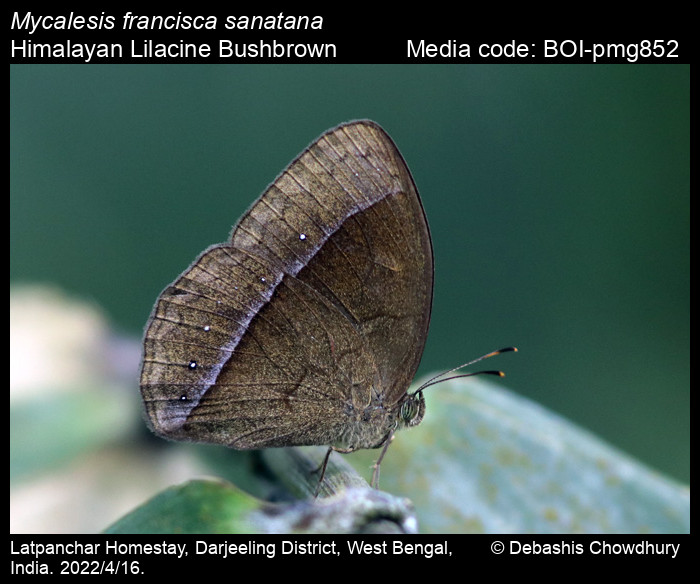 BIRD CHECKLIST (consolidated)
| | | |
| --- | --- | --- |
| Sl. No. | Name of the Bird | Remarks |
| 1 | Indian Peafowl | Frequently heard calls |
| 2 | Rock Pigeon | At Latpanchar |
| 3 | Spotted Dove | At Latpanchar |
| 4 | Mountain Imperial Pigeon | 3 individuals at the Latpanchar Nursery Area |
| 5 | Little Cormorant | At Shivkhola riverbed |
| 6 | Himalayan Griffon Vulture | At Mahananda W.L.S. |
| 7 | Asian Barred Owlet | One pair at the Latpanchar Nursery Area |
| 8 | Brown Hawk Owl | At Latpanchar Homestay |
| 9 | Red-headed Trogon | At Latpanchar |
| 10 | Rufous-necked Hornbill | At Latpanchar |
| 11 | Blue-throated Barbet | At all places in the hills |
| 12 | Long-tailed Broadbill | At Latpanchar |
| 13 | Large Cuckooshrike | Simring Tea Estate |
| 14 | Scarlet Minivet | Very common |
| 15 | Common Iora | Heard calls at many places |
| 16 | Hair-crested Drongo | Simring Tea Estate |
| 17 | Large Woodshrike | At Latpanchar |
| 18 | Black Drongo | At Latpanchar |
| 19 | Ashy Drongo | At Latpanchar |
| 20 | Common Green Magpie | At Latpanchar |
| 21 | Sultan Tit | At Latpanchar |
| 22 | Himalayan Black-lored Tit | At Latpanchar |
| 23 | Barn Swallow | Nesting at Latpanchar. Seen at least 3 adults with 4-5 begging chicks in the nest |
| 24 | Black-crested Bulbul | Shivkhola |
| 25 | Red-whiskered Bulbul | At Latpanchar |
| 26 | Red-vented Bulbul | At Latpanchar |
| 27 | Himalayan Bulbul | At Latpanchar |
| 28 | Himalayan Black Bulbul | At all places in the hills |
| 29 | Indian White-eye | At Latpanchar |
| 30 | Streak-breasted Scimitar-babbler | At Latpanchar |
| 31 | Chestnut-bellied Nuthatch | At Latpanchar |
| 32 | Chestnut-tailed Starling | At Latpanchar |
| 33 | Common  Myna | At Latpanchar |
| 34 | Oriental Magpie Robin | At Latpanchar |
| 35 | Verditer Flycatcher | At Latpanchar |
| 36 | Blue-whistling Thrush | At Latpanchar |
| 37 | Orange-bellied Leafbird | At Latpanchar |
| 38 | Eurasian Tree-sparrow | At Latpanchar |
BUTTERFLY CHECKLIST (consolidated):
| | | | |
| --- | --- | --- | --- |
|   | Common Name | Scientific Name | Photo |
| 1 | Common Orange Awlet | Burara jaina | Y |
| 2 | Chestnut Bob | Lambrix salsala | Y |
| 3 | Restricted Demon | Notocrypta feisthamelii | Y |
| 4 | Smaller Dartlet | Oriens goloides | Y |
| 5 | Common Dartlet | Oriens gola | Y |
| 6 | Common Bluebottle | Graphium sarpedon | Y |
| 7 | Tailed Jay | Graphium agamemnon |   |
| 8 | Common Windmill | Byasa polyeuctes |   |
| 9 | Common Rose | Pachliopta aristolochiae | Y |
| 10 | Tawny Mime | Papilio agestor | Y |
| 11 | Common Mime | Papilio clytia |   |
| 12 | Common Mormon | Papilio polytes |   |
| 13 | Paris Peacock | Papilio paris |   |
| 14 | Common Grass Yellow | Eurema hecabe | Y |
| 15 | Lemon Emigrant | Catopsilia pomona |   |
| 16 | Dark Clouded Yellow | Colias fieldii | Y |
| 17 | Yellow Orange-tip | Ixias pyrene |   |
| 18 | Chocolate Albatross | Appias lyncida |   |
| 19 | Plain Puffin | Appias indra | Y |
| 20 | Indian Cabbage White | Pieris canidia | Y |
| 21 | Common Gull | Cepora nerissa | Y |
| 22 | Lesser Gull | Cepora nadina | Y |
| 23 | Spotted Sawtooth | Prioneris thestylis | Y |
| 24 | Red-base Jezebel | Delias pasithoe | Y |
| 25 | Common Jezebel | Delias eucharis |   |
| 26 | Psyche | Leptosia nina |   |
| 27 | Dark Judy | Abisara fylla | Y |
| 28 | Punchinello | Zemeros flegyas | Y |
| 29 | Common Lineblue | Prosotas nora | Y |
| 30 | Dark Cerulean | Jamides bochus | Y |
| 31 | Metallic Caerulean | Jamides alecto | Y |
| 32 | Forget-Me-Not | Catochrysops strabo | Y |
| 33 | Pea Blue | Lampides boeticus | Y |
| 34 | Quaker | Neopithecops zalmora |   |
| 35 | Gram Blue | Euchrysops cnejus |   |
| 36 | Purple Sapphire | Heliophorus spicles | Y |
| 37 | Glassy Tiger | Parantica aglea | Y |
| 38 | Chestnut Tiger | Parantica sita |   |
| 39 | Chocolate Tiger | Parantica melaneus | Y |
| 40 | Striped Tiger | Danaus genutia |   |
| 41 | Plain Tiger | Danaus chrysippus | Y |
| 42 | Striped Blue Crow | Euploea mulciber | Y |
| 43 | Common Crow | Euploea core | Y |
| 44 | Common Palmfly | Elymnias hypermnestra |   |
| 45 | Common Evening Brown | Melanitis leda |   |
| 46 | Straight-banded Treebrown | Lethe verma | Y |
| 47 | Lilacine Bushbrown | Mycalesis francisa | Y |
| 48 | Common Five-ring | Ypthima baldus | Y |
| 49 | Tawny Coster | Acraea violae |   |
| 50 | Yellow Coster | Acraea issoria | Y |
| 51 | Small Leopard | Phalanta alcippe | Y |
| 52 | Large Yeoman | Cirrochroa aoris |   |
| 53 | Commander | Moduza procris | Y |
| 54 | Colour Sergeant | Athyma nefte | Y |
| 55 | Common Lascar | Pantoporia hordonia | Y |
| 56 | Palla's Sailer | Neptis sappho | Y |
| 57 | Powdered Baron | Euthalia monina | Y |
| 58 | Common Map | Cyrestis thyodamas | Y |
| 59 | Angled Castor | Ariadne ariadne |   |
| 60 | Indian Red Admiral | Vanessa indica | Y |
| 61 | Indian Tortoiseshell | Aglais caschmirensis | Y |
| 62 | Chocolate Pansy | Junonia iphita | Y |
| 63 | Grey Pansy | Junonia atlites |   |
| 64 | Lemon Pansy | Junonia lemonias | Y |
| 65 | Great Eggfly | Hypolimnas bolina |   |